Back
9 Times Country Music Rocked The 2016 GRAMMY Awards
Country Music was out in full force during last night's 58th Annual GRAMMY Awards. As we continue to recover from our GRAMMY hangover, we're recapping the nine times Country music rocked the 2016 GRAMMY Awards.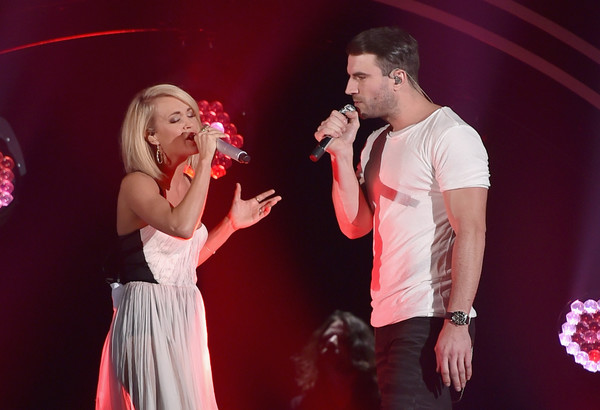 Carrie Underwood and Sam Hunt's Performance
What was your grade in Chemistry? We're sure Carrie Underwood and Sam Hunt earned an A+, especially after last night! The two did a medley of Underwood's "Heartbeat" and Hunt's "Take Your Time," and we surely wanted them to take all the time they needed for this performance. Between country music's hottest new star and its' reigning queen, this was one of the highlights from the night!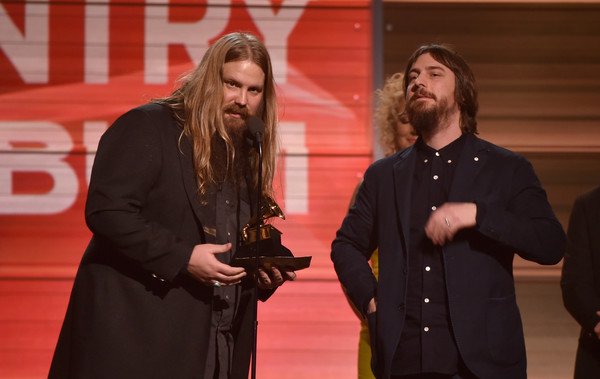 Chris Stapleton is Still on Fire!
Have you ever seen anyone hit the stratosphere quite as rapidly has Chris Stapleton has since his big break at the 49th Annual CMA Awards? The previously unknown singer/songwriter turned heads yet again with his two, yes, TWO, GRAMMY wins last night. He stunned us with this tribute to the late B.B. King with Bonnie Raitt and Guy Clark Jr., and even earned a congratulations shout-out from his buddy, Justin Timberlake!

We Have a Major "Girl Crush" on Little Big Town
Well, is it a "girl crush" if there's two guys, too? In any case, we could not be any prouder to have Little Big Town as part of the country music genre following their performance of the GRAMMY-winning song "Girl Crush." The quartet changed up the arrangement with strings and the song was more haunting than ever before!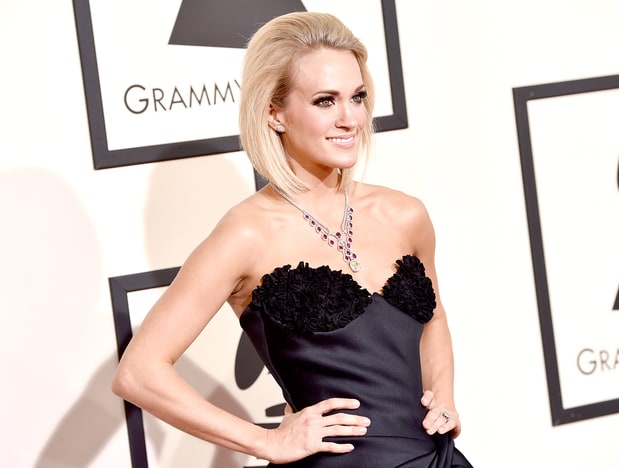 Holy Carrie Underwood's necklace, Batman!
There was no shortage of glitz and glamour last night at the GRAMMYs… and we're just talking about that gorgeous necklace around Carrie Underwood's neck! Normally the stars borrow their jewelry from designers, but this piece was a Valentine's Day gift from her hunky hockey hubby, Mike Fisher! Serious brownie points there, Mike! And it's true, diamonds really are a girl's best friend!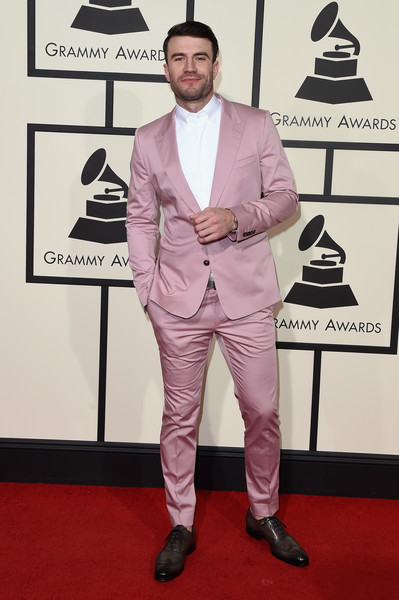 Sam Hunt's Pink Suit was on Point
Okay, we know Sam Hunt's suit wasn't everyone's cup of tea. Some even said his Dolce & Gabbana suit looked like it had been washed with a red sock. BUT, we loved the suit and the reasons for wearing it. "I thought it was a good fit being the day after Valentine's Day, thought I'd brighten it up a bit," he told reporters on the red carpet. "I wanted to go with something a little more spring-y." Seeing him in a suit also turned us pink in the face, right ladies?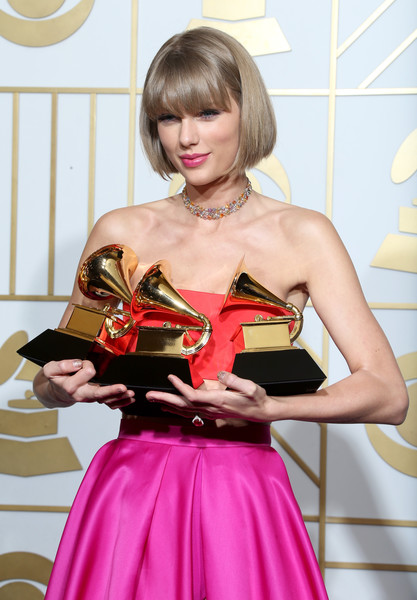 Taylor Swift Winning Album of the Year
Yes, we know 1989 wasn't a country album, but Taylor Swift did get her start in the genre. We've always admired how eloquent she is and she didn't let us down with her acceptance speech last night (take that, Kanye). We're so proud that a superstar like Swift came out of the country music genre and totally rocks the spotlight!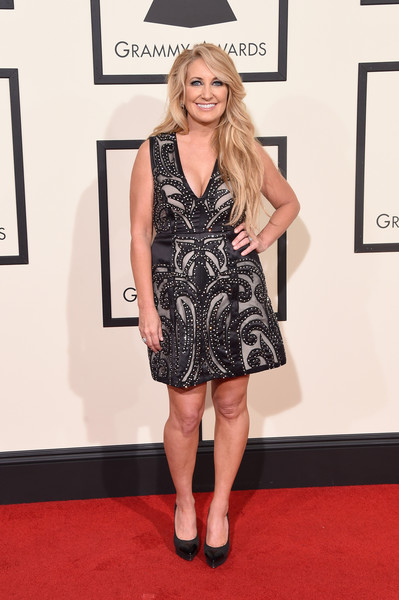 Lee Ann Womack Lays Down the LAW
In a moment that should've been televised, Lee Ann Womack opened up about attending an all-genre awards show and how people are "not so nice." We're all thanking our lucky stars that there aren't many body guards needed around Nashville to push Lee Ann and others around. Get it together, pop stars – We're looking at you!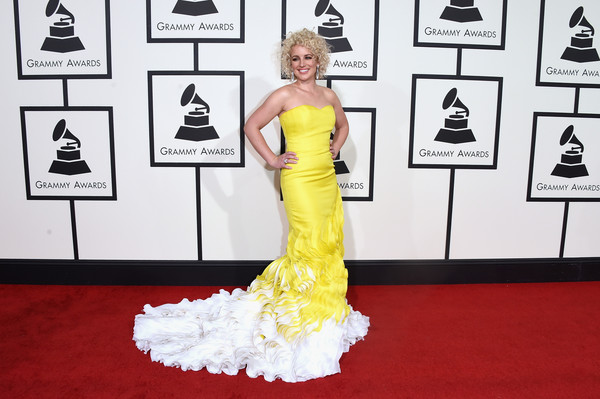 Several Stars Pop Their GRAMMY Cherries
Cam, Brothers Osborne and Chris Stapleton were all first-time nominees at this year's GRAMMYs. Though Cam and BROS went home empty-handed at the end of the night, they were sure having fun! Cam kept fans in the loop with adorable videos and livestreams from her Facebook so they could get a behind-the-scenes look at "Music's Biggest Night," while BROS spent the night hanging by the bar since their award wasn't televised.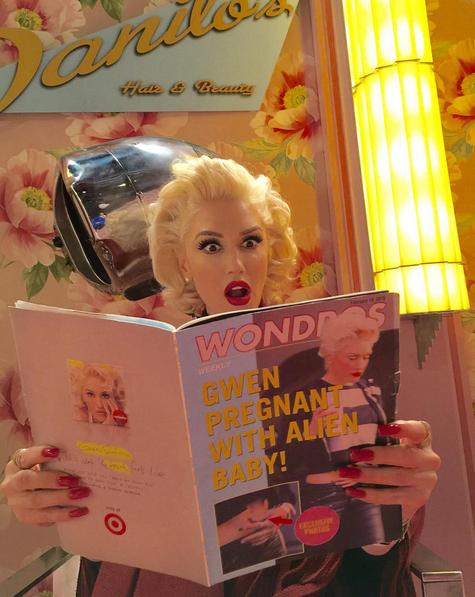 Gwen Stefani Sends Clear Message to Tabloids
Blake Shelton's girlfriend Gwen Stefani filmed her music video for '"Make Me Like You" within a 4-minute commercial break during the live telecast. Yes, one take, one chance, and it was epic! With all the stories that have been surrounding the new couple, Stefani took her chance to send a message back. She's not pregnant nor expecting an alien baby, and she likes to hang out at a bar called "Blake's," which coincidentally, was written in neon lights (get it?).
What was your favorite part of The GRAMMYs? Let us know in the comments below!