Back
Carrie Underwood, Luke Bryan Featured On Bobby Bones and The Raging Idiots Album
Comedy duo Bobby Bones and The Raging Idiots have announced their full-length album, The Critics Give It 5 Stars.
The 13-song disc will be released March 18 on Black River Entertainment and features some of country music's biggest names, like Carrie Underwood, Brad Paisley, Charles Kelley, Kelsea Ballerini, Lindsay Ell and more.
"Black River is pleased to be the home of great artists like Bobby Bones and The Raging Idiots," said Black River Entertainment CEO Gordon Kerr. "Through the efforts of Bobby, Eddie and the other incredible artists who have come alongside them on this project, comedy music is alive and well in Nashville!"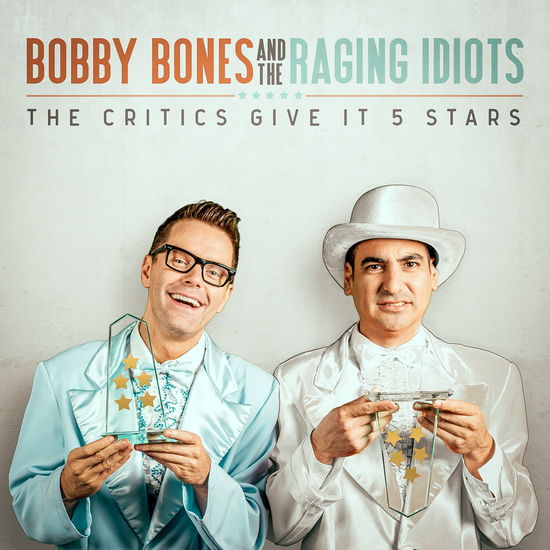 "Every time someone buys our record, an angel get its wings," added Bobby Bones. "I'd buy 10 copies of this album. I'd go to the store and demand them right now! I haven't listened to it yet, but I hear the critics love it."
A portion of the proceeds from The Raging Idiots collaboration with Carrie Underwood, "We Can't Stand Each Other," will be donated to St. Jude Children's Research Hospital. Fans can also pre-order autographed copies of the album with other merchandise offers from ragingidiots.com. A portion of proceeds from each package will go to Musicians On Call.
Check out the full track listing for The Critics Give It 5 Stars below…
The Critics Give It 5 Stars Track List:
1. "She's A 10, I'm A 2″ with Charles Kelley
(Bobby Bones, Kristian Bush)
2. "If I Was Your Boyfriend"
(Bobby Bones, Michael Saenz, Mical Trejo)
3. "We Can't Stand Each Other" with Carrie Underwood
(Bobby Bones, Lindsay Ell, Keifer Thompson)
4. "How We Think Every Hip Hop Song Starts"
(Bobby Bones, Eddie Garcia, Nick Autry)
5. "Starbucks!"
(Bobby Bones, Lee Thomas Miller, Nick Autry)
6. "Starbucks!" (Country Version with Kelsea Ballerini)
(Bobby Bones, Lee Thomas Miller, Nick Autry)
7. "I Like You with Brad Paisley"
(Bobby Bones, Lee Thomas Miller, Nick Autry)
8. "Reenactments with Fake Luke Bryan"
(Bobby Bones, Eddie Garcia, Nick Autry)
9. "Red, White And Blue"
(Bobby Bones, Michael Saenz, Lindsay Ell)
10. "Netflix Love Song" with Lindsay Ell
(Bobby Bones, Lindsay Ell)
11. "Fishin' With My Dad (Intro)"
(Bobby Bones, Wynn Varble, David Lee)
12. "Fishin' With My Dad"
(Bobby Bones, Wynn Varble, David Lee)
13. "Everyday Is A Good Day"
(Bobby Bones, Lindsay Ell, Kristian Bush)