Little Big Town, Blake Shelton Featured in 'Jimmy Kimmel Live!' Mean Tweets
While Blake Shelton and Little Big Town may have fans around the world, there are some that can't stand the singers, as pointed out in the latest installment of Jimmy Kimmel Live's Mean Tweets segment.
Posted last night following the 58th Annual GRAMMY Awards, the music edition of Mean Tweets included Shelton and LBT, as well as Ed Sheeran, Meghan Trainor, Drake, Kelly Clarkson, Lionel Richie, One Direction and several others.
The tweet meant for GRAMMY-winning group Little Big Town was not only grammatically incorrect, but also did not leave much to the imagination. "Honestly little big town id rather listen to a turd hitting the toilet than ur new songs," the Twitter user wrote.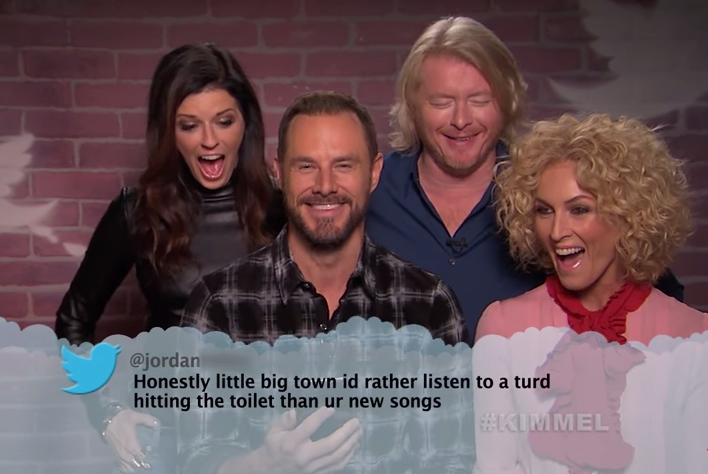 There was a little more hostility in Shelton's tweet. "If I could choose to punch one piece of s**t in the face it would be Blake Shelton f**k that bloated a**hole," the tweet read.
"Mean Tweets" is a segment Kimmel features on his show, Jimmy Kimmel Live!, where he gathers actual mean tweets and asks celebrities to read what people are saying about them on Twitter.
Check out the full episode of Mean Tweets and let us know your favorite tweet in the comments below!